Learn all about pure balance dog food reviews, grain free, calories and ingredients. Every dog is different in his nutritional needs. Depending on activity levels, environment, and maybe even current health status, dogs will need different foods.
In a broad sense, Pure Balance has passed the AAFCO minimum requirements for dog foods. This means that it should, indeed, be healthy for your dog. Yet, the minimum is not what your dog always needs.
Pure Balance believes in one pure and simple thought the best nutrition for your dog starts with the best ingredients. Pure Balance Grain Free Salmon and Pea Recipe is made with carefully selected ingredients to ensure your dog gets all the nutrition he needs without any of the extra stuff he doesn't. This Grain Free recipe contains no corn, wheat, soy or grains making this ideal for dogs with food sensitivities. The first ingredient is real salmon, which helps build lean muscle mass in your dog so he can run, jump and play. And peas which deliver a natural source of fiber as well as carrots which offer beta-carotene to help support healthy eyes. Antioxidants like vitamins E and C help support and keep your dog's heart & immune system healthy.
Wal-Mart wanted to offer a quality food at a lower price, so this food is less expensive than other high-quality brands. For example, the Grain Free Salmon and Pea Pure Balance food is $32.88 for a 24-pound bag. Blue Wilderness Grain Free Bison is $54 for a 22-pound bag.
Pure Balance dog food appears to be a great product that has the benefit of being gluten free. It includes a number of items that will help aid in the digestion and well-being of your dog while providing an adequate amount of carbohydrates, proteins, and fats.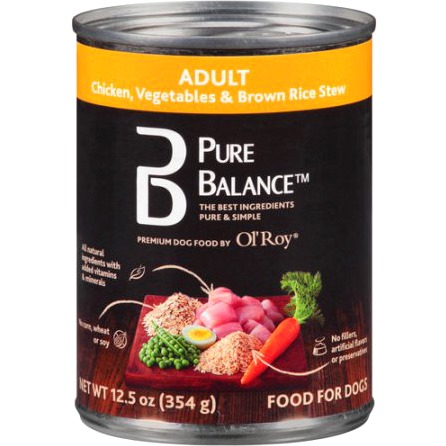 What is Pure Balance dog food?
Pure Balance Dog Food is a premium quality dog food. Pure Balance was born in 2012 after dog owners' needs were recognized by Walmart they needed affordable, great-quality, naturally balanced pet food. While this can be difficult to find (organic ingredients, real meat, etc.), Walmart knew they could provide a product of quality that dogs also loved. Customers have also raved about the availability and ease of accessibility Pure Balance, whereas other high-end pet food with pure ingredients with a natural balance can be more difficult to find in the store and require special ordering.
What is Pure Balance dog food Reviews
By reading about hundreds of reviews about Pure Balance dog food (most of which are overwhelmingly positive), and will focus on some of the features that are mentioned frequently by Pure Balance users.
One pet owner loved the effect the food had on her dog's coat:
"I recently change my dog's food to this and I have to say this is one of the best foods that have been eating! It made his coat look darker and shinier."
Another was happy to be able provide a quality food for a much lower cost than some other brands:
"The quality of the ingredients rivals the big names, but beats them all on price. Our dogs are healthy, they're coats are shiny and soft. We tried Blue, we tried Wilderness, and we have healthier dogs and we spend less for them."
Pure Balance dog food Grain Free
The Grain-Free product line is as its name suggests; free of grains. That means that the ingredients you will find in the dog foods in this product line do not have any grains in them. That ultimately makes them premium right off the bat considering that corn, soy, and other ingredients are only fillers. Any recipe without those is usually above average, and when you add quality animal protein sources, you get to higher quality standards.
Pure Balance dog food Calories
The dashboard displays a dry matter protein reading of 30%, a fat level of 17% and estimated carbohydrates of about 45%. As a group, the brand features an average protein content of 28% and a mean fat level of 17%. Together, these figures suggest a carbohydrate content of 47% for the overall product line. And a fat-to-protein ratio is of about 61%. Calorie Weighted Basis proteins are 26%, fats are 35% and carbohydrates are 39%.
Pure Balance dog food Ingredients
Pure balance dog food ingredients are as under;
Salmon
Salmon meal
Dried ground peas
Pea protein pure balance dog food ingredients
Tapioca
Fish meal
Dried plain beet pulp
Poultry fat preserved with tocopherols
Dried carrots
Sunflower oil
Potato
Calcium carbonate
Salt
Flaxseed
Potassium chloride
Zinc proteinate
Vitamin E
Iron proteinate
Choline chloride
L-ascorbyl-2-polysphosphate
Manganese proteinate
Copper proteinate
Niacin
D-calcium pantothenate
L-camitine
Biotin
Sodium selenite
Vitamin A supplement
Riboflavin supplement
Thiamine mono nitrate
Vitamin B12 supplement
Calcium iodate
Pyridoxine hydrochloride
Vitamin D3 supplement
Folic acid