Get all about the best hypoallergenic dog foods. In order to identify what is the best food for dogs with food allergies you must first understand what are food allergies and what causes them.
In fact, according to Dr. Adam Patterson, clinical assistant professor and Chief of Dermatology at the Texas, A&M College of Veterinary Medicine & Biomedical Sciences Small Animal Clinic, "Food allergies in dogs present themselves quite differently than food allergies in humans. For instance, a person who is allergic to shellfish may experience throat swelling and possibly a critical or fatal reaction, but in dogs, the allergy is expressed through the skin and seen most often as itch."
When it comes to dealing with a food allergy, the signs and symptoms that appear are very similar to those a human would show. Also like a human, the severity of the allergy would determine what kinds of symptoms the animal has and how prominent those signs would be.
A food allergy can present itself in the form of a rash or hives on the animal's skin, causing discomfort and itchiness. If you cannot see your dog's skin easily and you see them itching or biting, check the area and see if there is irritation.
Once the food allergy has been diagnosed using a hypoallergenic dog food, a challenge should be performed to confirm the diagnosis. When the original diet is fed, the symptoms should return within two weeks. Following confirmation of the food allergy, single source ingredients (e.g., slices of chicken or a sprinkling of wheat) may be added to the hypoallergenic dog food to determine exactly which ingredients must be avoided in the future.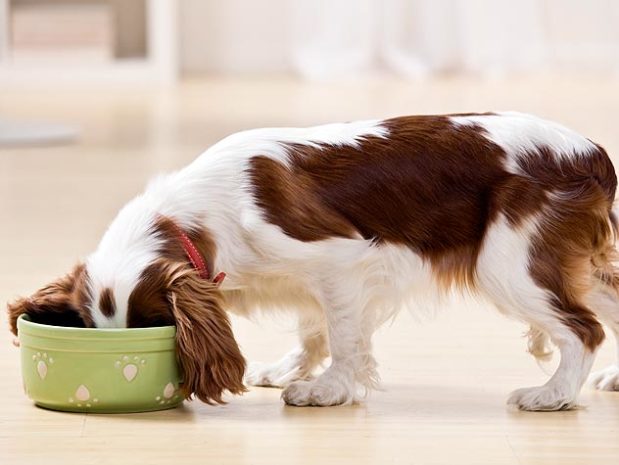 Best Hypoallergenic Dog Food
It is important to work with a veterinarian to determine the best food for dogs with allergies. Novel protein and hydrolyzed diets that are available by prescription only are superior to those that can be bought over the counter because the latter often contain trace amounts (or more) of common allergens, even if they are not listed on the label. Randomly eliminating ingredients from your dog's diet without the input of a veterinary nutritionist is also a bad idea, as it can result in nutritional imbalances and is unlikely to identify the underlying problem. Most hypoallergenic dog foods are designed to avoid the use of ingredients most likely to provoke an allergic reaction. According to online pet food retailer, Drs. Foster and Smith, the most common canine food allergens include:
Beef
Dairy
Chicken
Lamb
Fish
Corn
Wheat
Soy
Yeast
Hypoallergenic Dog Food Reviews
Overall, the Wellness Natural brand makes some exceptional products that receive great reviews across the board, and this limited ingredient version shouldn't let you down. At the time of writing, the product scores a solid rating of 4.4 out of 5.0 on Amazon, based on over 700 customer reviews. The reviews are generally very positive. The Rachael Ray limited ingredient recipe promises to feature just 6 ingredients. Most reviewers certainly love this brand, too. It currently has an average rating of 4.4 out of 5.0, based on over 770 reviews at the time of writing.
Hypoallergenic Dog Food Cost
Some of the dog foods prices are listed;
Hill's Prescription Diet Skin/Food Sensitivities
The D/D formula is grain and soy-free, using a single protein source. The Z/D ULTRA formula is a little more esoteric, and uses hydrolyzed protein which means the protein is broken down molecularly so there's nothing left of the allergen.  The D/D is available with venison, salmon, or duck as the protein. Prices will vary. D/D Single Protein Formula Venison and Potato: $5.90 /lb. for a 17.6-lb bag. Z/D ULTRA Formula: $5.65 / lb. for a 17.6-lb bag
The Cadillac: Acana Single Protein Formula
This limited ingredient diet comes in four single protein varieties.  A whopping 50% of the recipe is the featured meat protein. The rest is pretty much fruit, veggies, and a dash of probiotics. This is by no means an economy meal, but if pronounceable ingredients are important to you, this is a ridiculously high quality food. You can shop around for deals, especially if you buy in bulk. These listed prices are current on Amazon.
Lamb and Apple: $4.60/lb. for a 25-lb bag
Duck and Pear: $3.25/lb. for a 25-lb bag
Pork and Squash: $3.17/lb. for a 25-lb bag
Wild Mackerel: $5.80/lb. for a 25-lb bag
Mid-price, high-quality: Wellness Simple Limited Ingredient Diet
The Wellness Simple line of foods uses both whole single protein and meat meals (meat meal is a low cost, high protein ingredient created by cooking all the water out of the meat) along with good, recognizable ingredients. The result is a quality food at a medium price point.
Lamb and Potato: $2.37/lb. for a 22-lb bag
Duck and Oatmeal: $2.11/lb. for a 22-lb bag
Turkey and Potato: $2.11/lb. for a 26-lb bag
Salmon and Potato: $2.29/lb. for a 24-lb bag
Hypoallergenic Dog Food Ingredients
Hypoallergenic dog foods typically share one of three basic dietary designs:
Limited ingredient diets
Limited ingredient dog foods can make it easier to pin down the specific allergen to which a pet may be allergic.
Novel ingredient diets
Novel ingredient dog foods contain components the animal might not have been previously exposed to so, therefore, less likely to be sensitive to.
Prescription or veterinary diets
These foods contain obscure ingredients like buffalo, pheasant, kangaroo or millet. Prescription or veterinary dog foods are diets that have been designed to contain hypoallergenic ingredients. And as the names suggest, these products are typically prescribed and sold by veterinarians.
Avoid ingredients like unspecified "meat, "corn and other unhealthy grains and fillers, and artificial colors, flavors, sweeteners, or preservatives. Quality ingredients sometimes cost more, but feeding a high-quality, low- or no-grain food means you'll be feeding your dog less overall. Plus, the health benefits of a good diet mean less time (and expense) at the vet. Over time, a quality dog diet adds up to a lot of savings.