Learn all about your rabbit protection by knowing about the best outdoor and indoor hutches for rabbits. It may surprise you to know that rabbits have been around as pets since the middle ages. Then they were domesticated farm animals. Once the mid-19th century came around they were being bred to be shown and not just eaten or used for sport.
The first rabbits imported to the United States were Belgian Hares in 1898. Now, they are the 3rd most popular warm blooded pet in line after dogs and cats. Since they require much less maintenance than dogs and cats they make very good pets for older children who are very capable of filling food dishes, water bottles and changing bedding.
Rabbits are one of the most popular pets in America for good reason: they are charming, loving little animals that can be surprisingly self-sufficient and easy to take care of. Once you take the time to establish a proper living arrangement for your rabbit (or rabbits), the animals can largely take care of themselves; so long as you provide fresh food and water as needed, remove their droppings periodically, and ensure that their accommodations continue to suit their needs as seasons and weather change.
Getting a rabbit hutch alone is just the start of creating a great home for your bunnies. Next you need to fill that hutch with all the items that maximize their comfort and safety. All rabbits should eat plenty of hay. This simple foodstuff keeps their teeth trimmed and healthy and is essential for proper Leporidae digestion and bowel function. Using a trough affixed to the wall is the best way to ensure rabbits have access to hay that will not become sodden with urine or soiled with droppings.
A rabbit hutch is a heaven or sanctuary for rabbits. It can vary from small to large but will often have a lot of space and room for your rabbits to roam around and do their business in.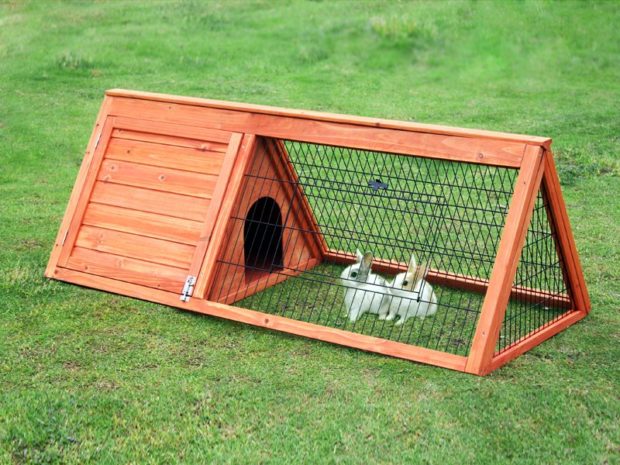 Best Rabbit Hutch
Rabbit hutches are available in different varieties. Some of the best known rabbit hutches are listed below;
Backyard Wooden.
Petsfit Wood
Stilt House
Pawhut Outdoor Triangular Wooden
Trixie Pet Products
White Picket Fence
Pawhut Outdoor House
Merax 70-Inch Wooden
Best Rabbit Hutch Indoor
If you keep your rabbit indoors then there will be times when you cannot keep an eye on them, for instance when you are at work, school or at night when you are asleep. During these times you will need to secure your rabbit somewhere safe so it does not come to any harm and also somewhere that is fully bunny proofed so you can relax knowing no damage is occurring to your home while you are away. There are lots of types of indoor hutches, pens and enclosures. Some of the best indoor rabbit hutches are listed as followings;
Pet pen
Living World Deluxe Habitat
Bunny proofed room
Rabbit cage
Free roaming
Multi-level cage
Wooden hutch
Dog cage
Office storage cubes
Converted furnature
Sheds
Best Rabbit Hutch Outdoor
Outdoor rabbit hutches need to provide your rabbit with protection from predators, as well as from hot and cold bouts of weather. This review of outdoor rabbit hutches provides tips on what to look for when choosing a rabbit hutch for your pet. The best outdoor rabbit hutches are;
Trixie Two-Story Rabbit Hutch with Enclosure
Petsfit Rabbit Hutch Bunny Cage Hutch
Merax Natural Wood House Rabbit Hutch
Ware Premium rabbit hutch
Prevue Hendryx Pet Rabbit Hutch
Advantek Stilt House
Best Rabbit Hutch Reviews
There are different types of hutches and reviews are also different some of the best hutches reviews are as under;
Advantek Stilt House
Your bunny will surely love this hutch. Advantek Stilt House is one of the best models for outdoor use. This two-storey pet house is very steady and spacious. And, of course, the main benefit of this outdoor rabbit hutch is its unique design.
Merax Natural Wood House Rabbit hutch
This outdoor rabbit cage is a great choice for a great price. Merax Rabbit Wooden Hutch includes a wooden frame without a bottom that makes it very lightweight and easy to move. What's more, screened walls will provide your pet with ample ventilation. Hence, your pet may breathe fresh air and play outdoors, being protected from all possible predators.
Rabbit Cage
Well, this extra deep plastic pan easily collects any mess. Note that it is an especially useful feature if your small devils like to push things out of the cage. Moreover, as this plastic pan slides out entirely, it provides an easy cleanup. So, there is no need to disassemble the whole thing. Considering pet extras, this cage comes with a ramp and platform.
Living World Deluxe Habitat
The living world deluxe habitat is the best seller in the 'Small Animal Cages' category on Amazon and has a flawless customer rating that has remained consistent over the years. If you are looking for a budget priced large rabbit cage, this is your best choice.